Welcome to GWIS
The Global Wildfire Information System (GWIS) is a joint initiative of the GEO and the Copernicus Work Programs. In the new GEO GWIS work program for the years 2020-2022 , the Global Wildfire Information System (GWIS) aims at bringing together existing information sources at regional and national level in order to provide a comprehensive view and evaluation of fire regimes and fire effects at global level and to provide tools to support operational wildfire management from national to global scales.
GWIS builds on the ongoing activities of the European Forest Fire Information System (EFFIS), the Global Terrestrial Observing System (GTOS) Global Observation of Forest Cover- Global Observation of Land Dynamics (GOFC-GOLD) Fire Implementation Team (GOFC Fire IT), and the associated Regional Networks, complementing existing activities that are on-going around the world with respect to wildfire information gathering. The development of GWIS is supported by the partner organizations and space agencies. Support to GWIS is provided by NASA through its GEO-GWIS activities in the ROSES program .
Currently, GWIS is made of three applications:
GWIS applications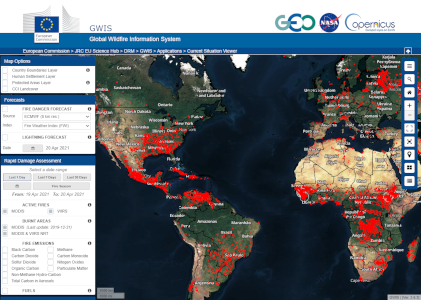 Provides fire danger forecast up to 10 days in advance, 1-day lightning forecast and near-real time information on active fires...
Read more >
Provides historical overviews of fire regimes at country and sub-country level for the period 2002-2019.
Read more >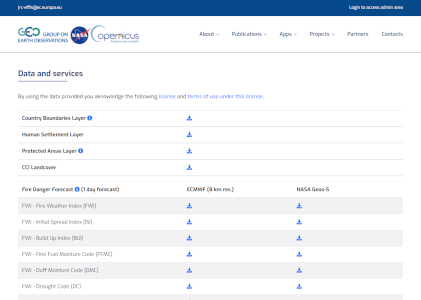 Provides access to the data used in the GWIS applications. Data from the Current Situation Viewer are provided from the WMS.
Read more >